Seasonal area
May 2009
Current Seasonal Area is here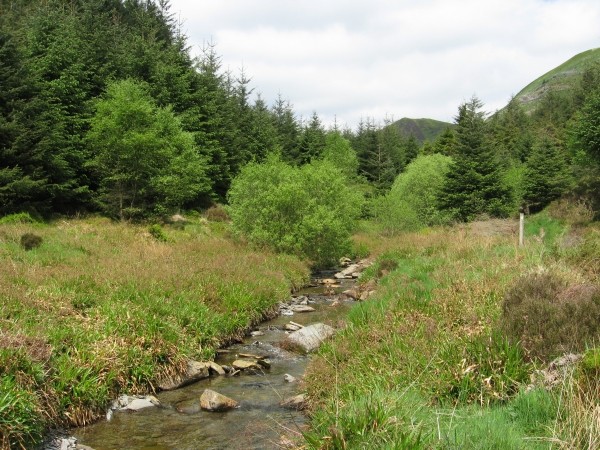 This year it seems that our photography team will not be doing much in the way of photography - instead writing us a very nice email entirely blaming the University of Exeter for its inconsiderate expectation that their students should learn something - and so we have visited the archive for a suitable old picture. An insistence that it should come from our current camera means that it has to come from one of last year's trips out in May, of which there were only two and one featured last year.
The Manchester and Milford Railway - whose ambition to link South-West Wales with North-West England and its subsequent history can be summed up by a comment along the lines of "never reached Manchester - or, indeed, Milford" - and associated branches therefore feature in two consecutive May pictures. The line between Carmarthen (population 13,000) and Strata Florida (population 12) had branches to Newcastle Emlyn (which we had last year) and Aberystwyth (which acted as the mainline pending construction of a tunnel under Plynlimon). It made the Snowdon Mountain Railway look well-engineered, straight and level; services between Carmarthen and Aberystwyth ceased in 1965. A service between Milford and Manchester was finally inaugurated by Arriva Trains Wales in December 2004 - but only using surviving lines via Cardiff, Newport and Shrewsbury.
The rather large mountain known as Plynlimon is the source of the Rivers Rheidol and Ystwyth, which are on the west flank of the mountain and so have to descend from the summit to the sea in two hours, and the Severn and Wye, which are on the east side of the mountain and so descend to the sea by rather more leisurely routes which get the water to the sea at Chepstow a few days later.
The picture shows the upper reaches of the Rheidol, around the foot of Plynlimon. The nearest house is a mile away and it's derelict. The railway east of Strata Florida to the larger village of Llandiloes was never built and a trip up to explore the area merely showed that the mile-long tunnel which would now stand forlorn through the mountain from somewhere around the view in this picture was never bored. But the scenery is very nice and people venture east from Devil's Bridge towards the wind turbines at the top of the mountain at a rate of two or three per month.
With the overwhelming lack of negative response (or, indeed, any response) to our extra pictures last month we have decided to provide a couple more. Continuing the animal and electricity themes, they show a happy family of sheep (which obligingly posed for the camera) and a wind turbine (which, contrary to popular opinion, was distinctly not noisy).
<<<Seasonal Area April 2009<<<
^^^Current Seasonal Area^^^
>>>Seasonal Area June 2009>>>
06/05/09