Seasonal area
July 2010
Current Seasonal Area is here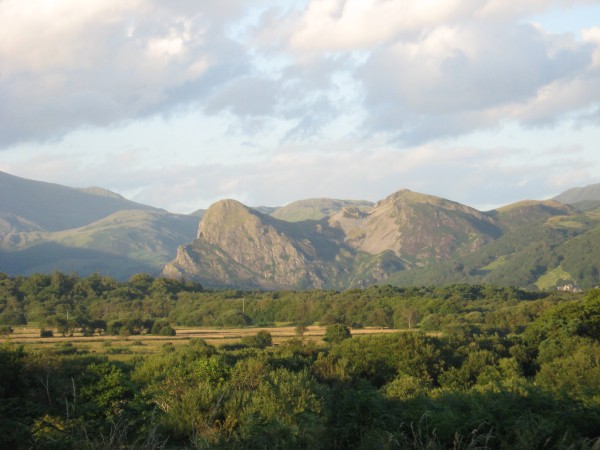 Bird Rock is located about two miles north-west of Tywyn, which is a small town on the Cambrian Coast of West Wales. The area was largely laid out by a group of glaciers a couple of million years ago, leaving high mountains with deep, steep-sided flat-bottomed valleys between them. Bird Rock is one of the more interesting of the rock features left by these glaciers; it is so named due to its popularity with cormorants which are yet to notice that the valley silted up and the sea retreated a few hundred years ago. It should not be confused with the small rock off the coast of Australia. This confusion can be minimised by using the Welsh name of Craig yr Aderyn for this Bird Rock instead.
After the sea left the valley was taken over by trees and small fields which on warm summer evenings present a very vague resemblance to the Mid-African plains seen on similar warm summer evenings. Flowing quietly along the bottom of the valley is the Afon Dysynni, which rises in the next valley to the south but is persuaded to come through to this valley via a convenient passage through the mountains between the village of Abergynolwyn and the ruined Castell y Bere due to the retreating glacier having dumped a large pile of mud in the way of the Dysynni west of Abergynolwyn. The great valley west of Abergynolwyn is therefore occupied by a few small streams and the narrow gauge Talyllyn Railway, which provides services between Tywyn and Abergynolwyn. Behind the scenes - the scenes consisting of a friendly and reliable service worked by a group of steam locomotives led by 1864-built Talyllyn - it is currently engaged in panicking about spending April next year celebrating the 60th anniversary of it becoming the world's first preserved railway.
The ruined Castell y Bere holds no such status; it is a tumbledown ruin which was once owned by a few Welsh Princes (until the English tore it to tiny pieces and built some new castles elsewhere) and overlooked the head of a tidal inlet until the aforementioned retreat of the Irish Sea. More recently a suitably tweaked version of it featured in the now obsolete (but still good fun) computer game Stronghold. It is very well situated from a scenic point of view and is invisible from the sea, being neatly hidden behind Bird Rock.
Hopefully the weather - it is raining at the time of writing - will change its mind and this July will also feature a few balmy evenings.
<<<Seasonal Area June 2010<<<
^^^Current Seasonal Area^^^
>>>Seasonal Area August 2010>>>
01/07/10