Seasonal area
November 2010
Current Seasonal Area is here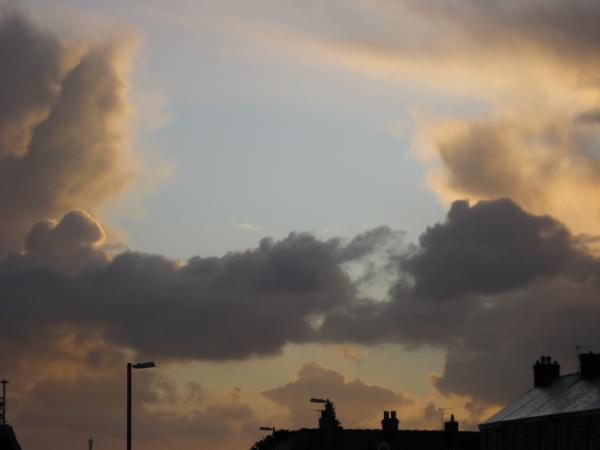 November - the month that marks the beginning of the run-down to Winter - is now with us and providing her seasonal bouquet of falling leaves, gentle drizzle and dark evenings. However, every cloud has a silver lining and November does provide a lot of very interesting cloud formations. Sunrise and sunset are always good for such things, though the much-maligned Greenwich Mean Time tends to ensure that the South-East gets up after the sun has risen and so they don't get to see the full effect.
The array of clouds above were seen over Truro early one morning in late November last year. They make a rather fine sight, silhouetted against the rising sun and the pale blue morning sky. They are also slightly weird, in that they consist of a very large quantity of water drifting gently across the landscape looking for somewhere to fall. Truro already looked rather damp on this particular morning however.
The arrival of Greenwich Mean Time is something of a relief in Cornwall. Until the clocks went back it was still quite dark at 8am; since we have another hour or so to lose from the day before December 21st a Cornish office worker living to British Summer Time all winter would potentially see no sunlight at all until February, except for maybe a little bit at lunchtime when it isn't raining. At least on GMT you can get up in daylight, which is always good for getting the brain to agree to wake up properly.
(Alternatively you take up hibernation, which the Sleeping Department insists we should recommend. They are currently in a bad mood because the new Government has ignored the Order's lobbying and withdrawn the tax-free £40,000 per annum allowance for the voluntary permanent bed occupant on the basis that such people contribute nothing to the economy. The fact that long-term bed occupants have to spend more money on beds and bed-related utensials was unfairly and unnecessarily overlooked in this wholly ideological decision. Efforts have been made to ask the Planning Department why they seemed to be vaguely interested in a Tory government being elected, but they won't answer and are instead busy lobbying the Forest of Dean District Council Planning Committee. It seems that the Planning Department want them to announce that in an era of public spending cuts a new cycleway in the Wye Valley is far too expensive for serious consideration. Apparently we will find out on the 9th of November whether the scheme is to go ahead; the decision is of considerable importance to the Planning Department, who risk losing their Head of Department if it does.)
<<<Seasonal Area October 2010<<<
^^^Current Seasonal Area^^^
>>>Seasonal Area December 2010>>>
01/11/10