Seasonal area
April 2009
Current Seasonal Area is here
For this month the Founder decided that he would like a picture of a set of electricity pylons above Port Talbot, near Swansea, which strode across the moorland without carrying any electricity wires. Unfortuately when the photographic team got up there it transpired that they had been removed, leaving an abruptly-ending pylon run (with wires, but presumably without electricity) and a line of moorland grass through the coniverous forests which cover the hills thereabouts.
Once the Founder had finished throwing his toys out of the pram the party returned to Margam Castle. The Castle was built by a Mr Talbot, who made so much money getting people to make iron and steel for him that he could afford to buy up Margam Abbey, a couple of old chapels and several hundred acres of land and create a massive deer park, a couple of boating lakes and his very own genuine Gothic pile. In due course the Castle and surrounding land passed to the local Council, who did their best to restore it before avoiding completely burning it to the ground in 1977. A subsequent restoration is now proceeding nicely. In 2008 it was borrowed by a child genius for a couple of Doctor Who episodes and moved to a hill overlooking London for the purpose; the genius kindly did not blow it up and returned it, largely undamaged, to its original location 180 miles to the west of London afterwards.
Meanwhile, we have decided that, what with it being Spring and all, we will add a couple of extra pictures this month. Therefore we include a fawn, which trotted up to us near Margam Castle and decided that we were Mummy. Also we feature the end of the pylon run, just to show that we have interests outsides railways.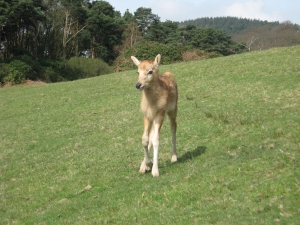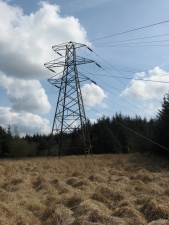 <<<Seasonal Area March 2009<<<
^^^Current Seasonal Area^^^
>>>Seasonal Area May 2009>>>
30/12/09