Seasonal area
March 2010
Current Seasonal Area is here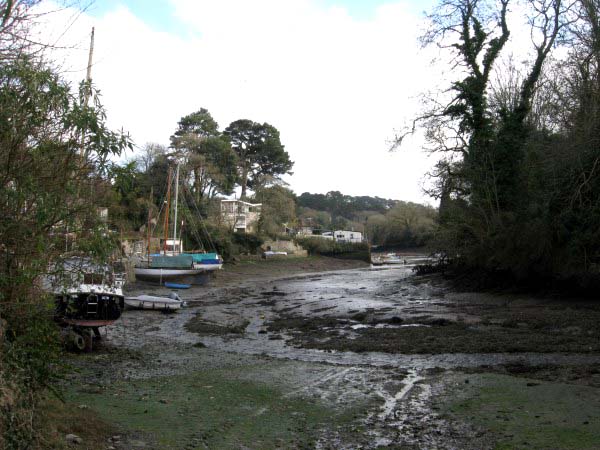 For March 2010 we have a picture from a little Cornish creek which isn't called Cowlands. Port Navas is about 30 miles from Cowlands and somewhat off the beaten track from our point of view, due to the lack of a railway station within 6 miles of the place. Other people may dispute its remote and obscure nature, such as the people who wrote the village website.
Port Navas is a small scattering of houses around a couple of creeks in fact, so it is already substantially larger than Cowlands. It has a couple of roads but almost as many yachts as cars. This is particularly helpful for local residents when drivers of large lorries get lost, stick on bends and block the main road to Mawnan Smith, which is one of the nearer places of any major note. The village has its very own regatta, a village hall and an oyster farm. Comfortably parked a mile from the South West Coast Path and any resultant crowds of tourists, it has no pub and no full-time village shop. Since the tide is out half the time (as above) it is one of many places in the country where you are looking at compulsory car ownership (or generous neighbours - Port Navas feels like the sort of place which might manage the latter).
The picture was taken during our first trip out for a bit and as a result the 16-mile walk from Penryn to Falmouth (via Constantine, Port Navas, Durgan and Maenporth) has left our Official Photographer grumbling about the state of his poor feet. He was therefore even less happy when the Planning Department made a friendly request that we feature something from the Wye Valley Railway area this month on the basis that the WVR area is currently in bits and undergoing a round of heavy refurbishment. Points were made about it being potentially party political, the WVR getting enough attention as it is without us having to host their stuff and how the Seasonal Area has never had anyone attempt a round of heavy refurbishment on it. The Planning Department threatened to lose our page. So those who believe that David Cameron is scary, overly smooth or simply a Tory should look away now.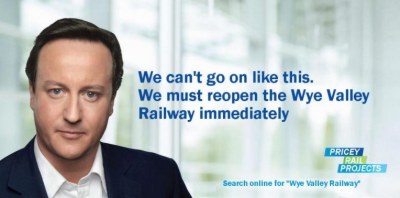 We should emphasise that we don't know what the policy of the Conservative and Unionist Party with regards to our pet railway is (we rather suspect, although the Planning Department denies it, that they don't know that they should have one). Meanwhile the Planning Department is promising balance with posters of the leaders of the other two main parties (Labour and Plaid Cymru apparently) and we are promising to do our best to force them to go on the Planning Department's pages, election year or not.
On a more positive note, here is a little twist on Wordsworth's famous poem about wondering "lonely as a cloud" before seeing "a host of golden daffodils". Yes, we know that we featured daffodils last month - these are from Rosemullion Head rather than Perranwell if it makes you feel any better.

<<<Seasonal Area February 2010<<<
^^^Current Seasonal Area^^^
>>>Seasonal Area April 2009>>>
03/03/10