Seasonal area
April 2010
Current Seasonal Area is here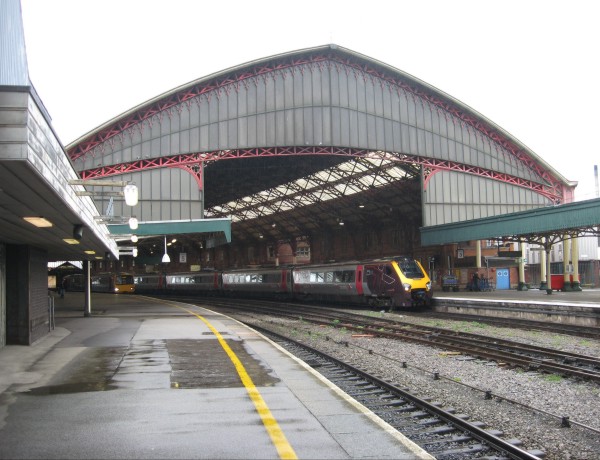 Our photography team have come back up from Cornwall for a short break to help out with the photography for a string of Wye Valley Railway articles. This entailed changing at Bristol and so Temple Meads station is this month's Seasonal Area image.
The current station at Bristol Temple Meads is the second on the site - the first was built by Isambard Kingdom Brunel (not personally - he had men to do the difficult work) as the western terminus of his Great Western Railway. It carried straight on from the end of Platform 1, passed to the right of the fine overall roof and then had its own overall roof and main building alongside the current station forecourt. The buildings largely remain today, but part of the interior is used for carparking and trains have not run into it for many years. Instead all traffic uses the new station, which is located on a sharp curve and purports to have 15 platforms. In fact platform 2 has been declassified and platform 14 doesn't exist, while platforms 4, 6, 8, 10 and 12 are the southern halves of 3, 5, 7, 9 and 11 and are purely set up to give passengers with heavy luggage more exercise. That leaves 8 operational platform faces, which is arguably still a couple more than it needs. Only platforms 3 and 5 come under the new overall roof, which is very nice and big but could do with an overhaul. A Voyager for Manchester is seen resting in platform 3 at right while a Pacer for Avonmouth huddles under the roof in platform 5 at left. It is raining. For some reason the weather has been deteriorating since our February picture.
Having asked us to host a political poster last month on the basis that the Wye Valley Railway section was in bits, the Planning Department has got back to us this month and asked us to host another one on the basis of political balance. We pointed out that our idea of political balance was to refuse to mention the coming election. The Planning Department told us that the longer we waited the bigger they'd want the poster to be. Small children and those of a moderately nervous disposition should consider covering their eyes.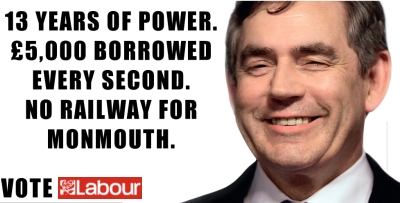 The Labour Party doesn't seem to have much more of a policy on the WVR that the Conservative and Unionist Party, but apparently the aim of these posters is to get our point across and encourage people to believe that such a policy is an election breaker. Meanwhile you may be pleased to hear that the Planning Department is having trouble sourcing a poster for Plaid Cymru. Rumour has it that one of the Glorious Leader was only obtained because the Tory party published it.
Regrettably there is no daffodil picture this month.
<<<Seasonal Area March 2010<<<
^^^Current Seasonal Area^^^
>>>Seasonal Area May 2010>>>
02/04/10