Seasonal area
May 2010
Current Seasonal Area is here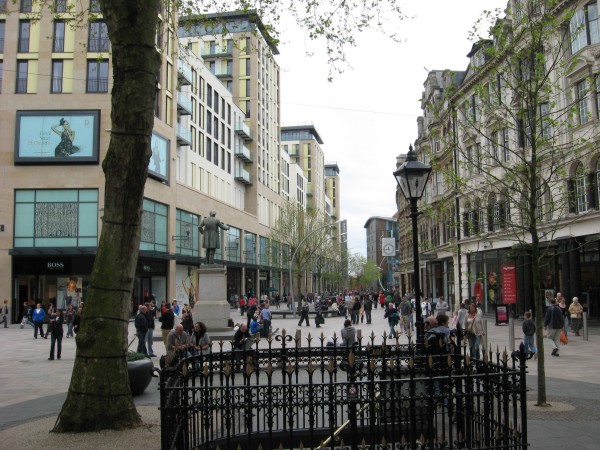 After a sunny April the weather has collapsed dead on schedule for the May Bank Holiday, which is a bit of a pain from our point of view since it means that the Seasonal Area picture for May gets to be taken on a rather grey day despite the fact that the 500 or so pictures that we have taken over the last few weeks have mostly been taken in very good weather.
Last month we were in Bristol; we have now reached Cardiff and a quick morning out with the camera resulted in this picture of the Hayes. The Hayes has changed a lot in recent years; in 2005 the bulldozers and crushers began to roll in and after 5 years of hard work the area has been largely rebuilt. The fact that Cardiff's largest department store has closed and the second largest has opted for suicide by re-branding has also contributed to the evolution and means that the largest shop overlooking this area which was there at the beginning of 2005 is Waterstones.
Meanwhile the buses which used to come up here have been evicted, several awful multi-storey car parks have been replaced by one giant multi-storey, John Lewis has made a suitably over-hyped arrival, one of the new bookshops has already gone to the wall and the underground toilets - listed historic structures which can be accessed by a staircase inside the black fence in the foreground - have been nicely refurbished.
Regular readers may be pleased to hear that the Planning Department has been too busy writing a webpage on the Monnow Valley Railway (planned in 1865, 1883, 1887 and 1888 but never actually built) to find a Plaid Cymru poster with the party leader's face on it which can be modified and put on this page. The Planning Department regard this inability to represent Wales's three main parties as a failure of democracy. We're pleased that it will save us from having to arrange with the IT people to remove the poster on the morning of May 7th. (Incidentally, our IT team have decided to go on holiday to the South of France over the beginning of June so when you'll get the June Seasonal Area is open to question. We did complain but they threatened strike action, so some sort of arrangement will probably be made regarding uploading it in May.)
<<<Seasonal Area April 2010<<<
^^^Current Seasonal Area^^^
>>>Seasonal Area June 2010>>>
01/05/10