Seasonal area
March 2011
Current Seasonal Area is here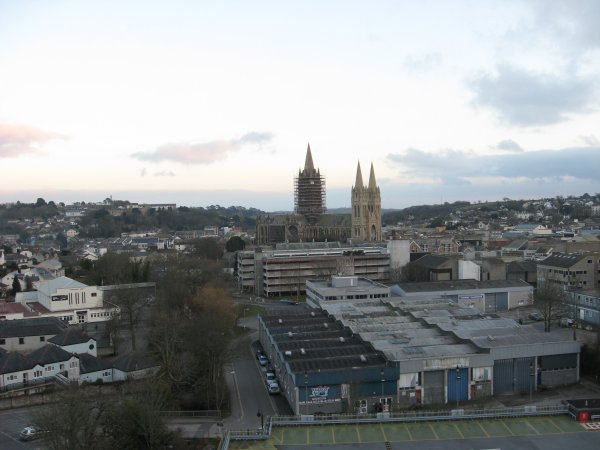 The competition to feature in the Seasonal Area picture this month was between Truro and Bodmin; Truro won when it was decided that the Bodmin pictures were all of non-descript areas of countryside whereas the Truro picture is a view down across the county city of Cornwall taken from a train passing over one of the two viaducts which carry the mainline to Penzance overhead. The droplights on train doors are wonderful things; they allow you to take pictures out of the train without getting the reflection from the window and when our lesser technical staff lean out too far they bash their heads on passing bits of railway equipment and save us a fortune on the wages bill. (Which is kind of important for an organisation which is too busy snoozing to have an income.)
Truro is home to a fine range of buildings and in typical fashion has ensured that most of the decent ones are invisible from the railway. Instead the first view passengers obtain of the city centre is pretty much the one shown here - warehouses and car parks - unless you're on the north side of the train, whereupon you just get the sort of suburbs which back onto this end of a town. The exception is the Cathedral, rising impressively above the car parks and shops and dividing opinions on whether it's an architectural marvel or utterly hideous.
The rest of the city centre is quite good for a city centre, with cobbled streets and a suitably mixed bag of building designs. You don't see much of it from the train. After passing this point it swooshes over a hill (which conveniently rises to almost exactly the height of the railway), sweeps over a second viaduct (offering a further view of the cathedral, a small park and some of Truro's inner suburbs) and sails onto the hillside above Truro on which its fine Edwardian station stretches out. One of the last examples of a once-common design, Truro station is one of those places which bustles when a train pulls in and is utterly dead the rest of the time; it has recently been equipped with ticket barriers to stop people from conning First out of revenue by not buying a ticket on the grounds that the staff don't check them half the time.
But don't let the grey scene here and threats of ticket barriers put you off coming. It looks really good when the leaves are on the trees. The scaffolding has come off the Cathedral's central tower since this picture was taken last year and the ticket barriers mean that - if you're lucky and you probably won't be - you can get from St Austell to Falmouth with one change and no ticket check.
<<<Seasonal Area February 2011<<<
^^^Current Seasonal Area^^^
>>>Seasonal Area April 2011>>>
01/03/11