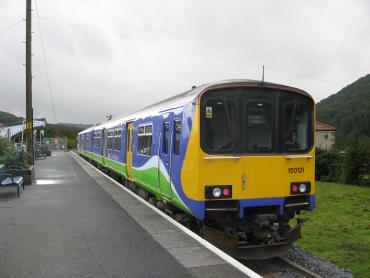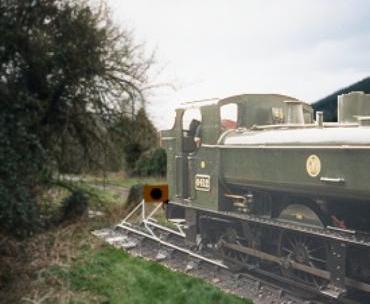 A list of questions which we receive from time to time about the Wye Valley Railway pages:
1) When are you planning to re-open the railway? Where can I send donations?
Errrmm...currently such details as when to re-open the railway have not been worked out and so an opening date cannot be projected. As at the moment we are not in a position to re-open the line we are not after money. (Unless you have lots and lots of money to give us - several million pounds or above - whereupon we will revise this statement.)
2) Why is this website here then?
To gauge interest mostly - and if anybody else wishes to carry out this re-opening themselves we'd be happy to get involved and provide input.
3) Who currently owns the railway?
Cycling charity Sustrans owns the railway and trackbed from Chepstow to Tintern. Beyond there it is principally farmers as far as Whitebrook, after which ownership isn't clear (apart from Redbrook station and the approach to Wyesham, which are privately owned by the houses concerned).
4) Can I walk along the railway?
Tintern Quarry to Tintern is a public footpath. The railway around Tintern station has a footpath along it. Llandogo to Whitebrook mostly runs across fields but it is possible to walk on, adjacent to or within a stone's throw of the trackbed. Whitebrook to Penallt is a forestry track, while Redbrook to Wyesham is a footpath - albeit one without public footpath status.
5) Are there any sections which I cannot walk then?
Wye Valley Junction to Tintern Quarry is still a railway, albeit overgrown. Tintern Tunnel is closed off. Brockweir to Llandogo runs across farmland with no adjacent public footpath (although there is always the road and there is a footpath on the opposite bank of the river). Monmouth viaduct is also fenced off.
6) Are there any plans to change this?
Sustrans wish to turn the Tidenham to Tintern station section into a cycleway. However, their plans are currently in a similar state to ours, and it would involve rebuilding a bridge and opening up two tunnels.
7) How will the Tintern branch fit into your long-term plans following re-opening to Monmouth?
Depends on how things work out. The bridge would need substantial re-building for a narrow-gauge link. Then there would have to be a level crossing in Tintern. The trackbed would need a lot of re-conditioning and widening work. Through trains from South Wales are a possibility but a tight curve on the east side of the bridge precludes accessing Tintern with one.
8) Why no mention of steam traction? That's what most preserved railways use.
This is a re-opened railway - a new branchline on the old trackbed - rather than a preserved line aiming to recreate the old route with a 25mph speed restriction and seasonal operation only. Steam traction is a bit noisy and dirty for a re-opened line. With diesels or electrics, people overlooking the railway in Wyesham will be able to hang their washing out without it being filled with smoke and smuts. Running costs are lower and preparation time is shorter. Getting paths for a modern train on the mainline to Cardiff and Newport will also be much easier. Buying new steam locos would be expensive and thrashing 70-year-old ones on an intensive stopping service would be cruel.
Steam locomotives may, however, put in an appearance on the re-opening special and peak season additional services.
9) Why not make Tidenham the southern terminus?
Because, compared to running to Cardiff, that wouldn't be nearly as good at getting people out of their cars - which is the main aim.
10) Would Sustrans have a role to play in this?
Sustrans can have a very large role, including providing paths between stations (allowing for round walks) and from villages to stations. This combination of rail and bicycle will help boost sustainable transport more than a cycleway, particularly on wet days, very hot days, in the winter, or if likely users are not keen, for whatever reason, on heavy exercise.
11) What about the bats?
Bats - which may live in the tunnels - will be served with a compulsory purchase order and alternative accommodation sourced.
12) What are the views of the locals?
None have got in touch (please do).
13) Have you sourced any potential stock?
No. We keep an eye on the stock situation for ideas but it's all rather fluid; trains come in and out of store and occasionally, like the West Coast electrics which keep appearing in the mock-ups, they get exported or scrapped. Trains would not be confirmed until construction work started, although a general outline of what would run would be included in any final plans.
14) Why no Newsletter?
Having read the above, do you have any ideas for what we might be able to put in it?
15) Who would pay for it?
The local authorities are broke (both Gloucestershire and Monmouthshire are large counties with a higher number of roads than average but a smaller number of inhabitants than average). So we'd be looking at private individuals, Lottery funding, Europe, the WAG and Central Government.
16) Would it be profitable?
The WVR itself would almost certainly have to be run as a public service, particularly in the winter, but a service between Newport and Cardiff may be persuaded to run at a profit, especially if it undercut the local bus companies and offered a few extra intermediate stops.
However, some sources put visitor numbers to the area at 2,000,000 per year. The rail share of national traffic is 6%. This gives us loadings of around 120,000 passengers per annum before local traffic is counted. This figure is likely to rise as the economy sags and UK-based holidays become more attractive, leading to more people wishing to stay in an area where the car is unsuitable for daily use.
17) Can you provide extra details about the history of the railway?
Practically every detail we know about the history is here and our bibliography is listed on the main WVR page. However, if you're not satisfied, do get in touch and we'll see what we can do. At the worst, you'll get a polite list of places to go for further research.
18) Can you help me with my own project on the WVR?
If you want us for your TV programme, magazine article or book then we will aim to be co-operative. If you are doing a school project or informal research then feel free to get in touch. Our reasonable knowledge of railway technical phrases means that there may occasionally be a language barrier between normal English and railway English.
19) I know something about the railway which you haven't got here/ have my own pictures. Are you interested?
Very interested. We may want to use your stuff somewhere and you will be asked beforehand if you didn't explicitly mention this in your original email. If it turns out you didn't have copyright we'll blame you whatever the legal basis for such blame is.
20) Will you keep my details?
Your email and email address will be retained for future reference, unless you request otherwise. You may be subsequently contacted about exciting (and not-so-exciting) developments, unless you request otherwise. If you give us other details these will be treated in the same way, although we do business by email. Your information will never be willingly passed to another organisation; if you are emailing us in the hope that we will sell your details and you will receive loads of offers for drugs and sex then go and find a different website.
21) Can I have your phone number/ real address?
No.
22) Can I meet you up to discuss the railway?
Unlikely, but please bear in mind that the boss has become manically paranoid (without any use of drugs) and so may insist on bringing company to a meeting place of his choice if such an agreement was made.