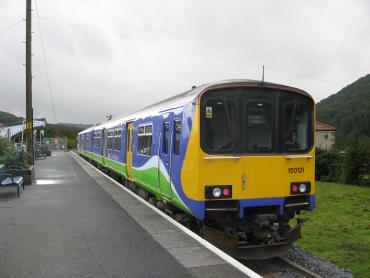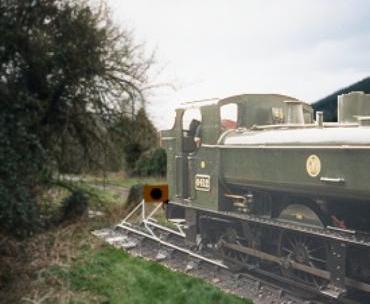 This article is primarily interested with tourist attractions of all sizes in the Wye Valley and how they will benefit from the railway being reinstated.
1) Tintern Abbey
The railway signed its death warrant when it built the station as far away from Tintern as it is possible to really get, since it meant that tourists were always going to find access to the famous abbey extremely difficult. A station at the southern end of Tintern Tunnel is as close as the route can get without abandoning the original formation altogether. However, a good-quality path from here to the Abbey via the Wireworks branch could easily be marketed as being part of the experience and the Monks Path over the tunnel to Brockweir would provide a mixture of ways of getting back to the train. No longer would visitor numbers be limited by the size of the car park. Furthermore, as the footpath would not cross the river on the Abbey's doorstep but a few hundred yards up the valley, the various shops and pubs along the route would benefit from the railway too - whereas currently they gain nothing from those who arrive by car, walk around, get back in their car and go home.
Coach parties could be persuaded to do the last leg from Tidenham by train (possibly in peak times a steam trains could be laid on from Tidenham to Tintern between service ones to make this more appealing) and the passengers would then get to see more of the Wye Valley in the process.
2) National Diving and Activity Centre
Located adjacent to Tidenham station, it would be a most remarkable failure on the part of all concerned if this location failed to benefit from the return of rail services. The former quarry, which kept the stub of the line open until 1990, is now a tourist attraction. Half-filled with water, its drowned "exhibits" include a Boeing 747, two former Cardiff buses and army trucks. Running along the south boundary is the A48 from Gloucester.
3) Canoeing
The River Wye's rapids make canoeing a popular activity on the river. A train with decent luggage space could easily accommodate a few canoes for people to catch the train up the valley and canoe down. A bridge at Tintern with no supports would ensure that there would be no additional inconveniences to these people.
4) Vineyards
There is a vineyard just outside Tintern Old Station and the provision of a railway station would allow those visiting to get slightly tipsy without having to worry about the A466. Instead they could walk down to the station and catch the train back to wherever.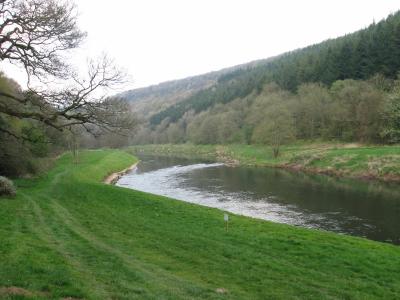 The Wye glistens in the Easter sun a mile north of the village of Whitebrook. The sweeping curves and wooded banks make it a picturesque scene.
5) Walking
Most of the proposed station sites are already linked by footpaths of various forms and so there will be plenty of opportunities for people to go for long walks between them. A walks booklet would be produced advertising some of them. A walk between Tintern and Redbrook would be much easier to carry out if it was then possible to catch the train back rather than having to wait for a bus or find a way of persuading the car to come to Redbrook and provide transport home. Car-based walks have to be circular - train-based walks don't. You can get off at one station and amble along the valley for a bit, getting back on the train at another station. You don't have to worry about parking your car in a strange place.
A train fitted out with enough room for canoes would also be able to carry bikes, so cyclists would be able to use the train easily should the weather turn foul or if they fancy avoiding a particularly steep or dangerous stretch (for example, getting on the train at Tintern Junction and then alighting at Netherhope would provide time to recover, avoid the A466 and offer a variety of alternative routes into Chepstow).
6) Pub Crawls
Often seemingly out of fashion, pub crawls are very popular with certain people and are part of the advertising for many lines in Devon and Cornwall. The Wye Valley is home to many pubs, some of which are convenient for stations and some of which would require an actual crawl. Monmouth and Chepstow also have good stocks of these hostelries. No doubt some arrangement could be made to provide tickets which covered two days to make such trips easier. The pub crawlers would not have to worry about infringing drink-driving (or drink-cycling laws), although the railway would naturally refuse admission to those who were too drunk for their own good (mostly defined by those who look likely to drunkenly argue when the guard asks them to pay up).
7) Shops
There are quite a lot of these dotted up and down the Wye Valley - the bulk are in Chepstow and Monmouth, but there are also some in Tintern and Redbrook and, to a lesser extent, Llandogo. None of these - apart from maybe Chepstow - will benefit exceptionally from a cycleway - bulky items are awkward to fit onto a bike, heavy items are a nuisance (particularly on 5 mile cycles) and Llandogo, Redbrook and Monmouth are not set to be linked to the cycleway anyway. The railway would link up all the shops and not require heavy and bulky items to be manhandled (or womanhandled) onto bikes with difficulty.
Furthermore, the railway would link everybody with Tesco Chepstow. It still wouldn't have the convenience of the local shops, but those people in the Wye Valley who wanted to do a supermarket shop could do so without having to bother with a car. Tesco Chepstow is barely a 100yard walk from Chepstow station. It would probably prove particularly popular if Tesco provided a trolley-drop-off point at the station.
8) The Peregrine Path
The Ross and Monmouth Railway has no prospect of re-opening any time soon due to excessive economies being made with the landscape in the vicinity of most of its intermediate stations (it made the mistake of, unlike the WVR, actually serving some places, with the result that its trackbed was worth something). However, one of the longer clear stretches is that between Monmouth May Hill station and Symonds Yat, which has been duly turned into the Peregrine Path. This attractive route is now due to be extended by a Sustrans Connect2 project which will bring it down to Monmouth Troy station, allowing direct connections from the WVR.
More than any other use of the WVR's trackbed, the railway would open up the possibility for families to reach Symonds Yat from South Wales and Bristol without bringing the car. Instead they could catch the train to Monmouth and then cycle or walk. The train would have plenty of accommodation for cyclists, but something could be organised for those who wanted to hire a bike in Monmouth. If the goods shed at Monmouth Troy had survived it would make a good cycle hire centre; as it hasn't alternative arrangements would be necessary for this most perfect of opportunities for integrated green transport.
Tintern Abbey's ancient columns are shown to good effect in on a warm day in August 2009, 476 years after the Abbey was dissolved.